Beautiful options for Spring Summer Weddings and Celebrations from our Irish Designer Aideen Bodkin
Posted by Catherine on 5th May 2017
There are many beautiful options for weddings from our well known Irish Designer Aideen Bodkin for Mother of the Bride and Mother of the Groom and wedding guest.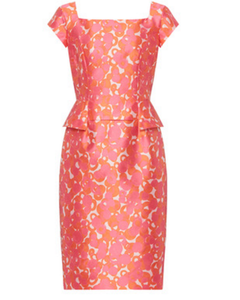 Strong vibrant shades of Raspberry and cerise pink are features within Aideen Bodkin's Spring Summer 17 collection which are lovely sunny colours for celebrations on Summer days. Really pretty multicolour and dramatic floral prints are central to the Spring Summer collection.
The Aideen Bodkin Piri Dress, in a multicolour of orange, pinks and creams, has a clever overlay with a pencil shaped skirt with a striking cut out back. This colourful dress is a stunning option for Mother of the Bride or Mother of the Groom. It can be worn either with Aideen Bodkin's Amor pink jacket for a real Jackie Kennedy look or a simple stole wrap.